E-Sign with Exela's DrySign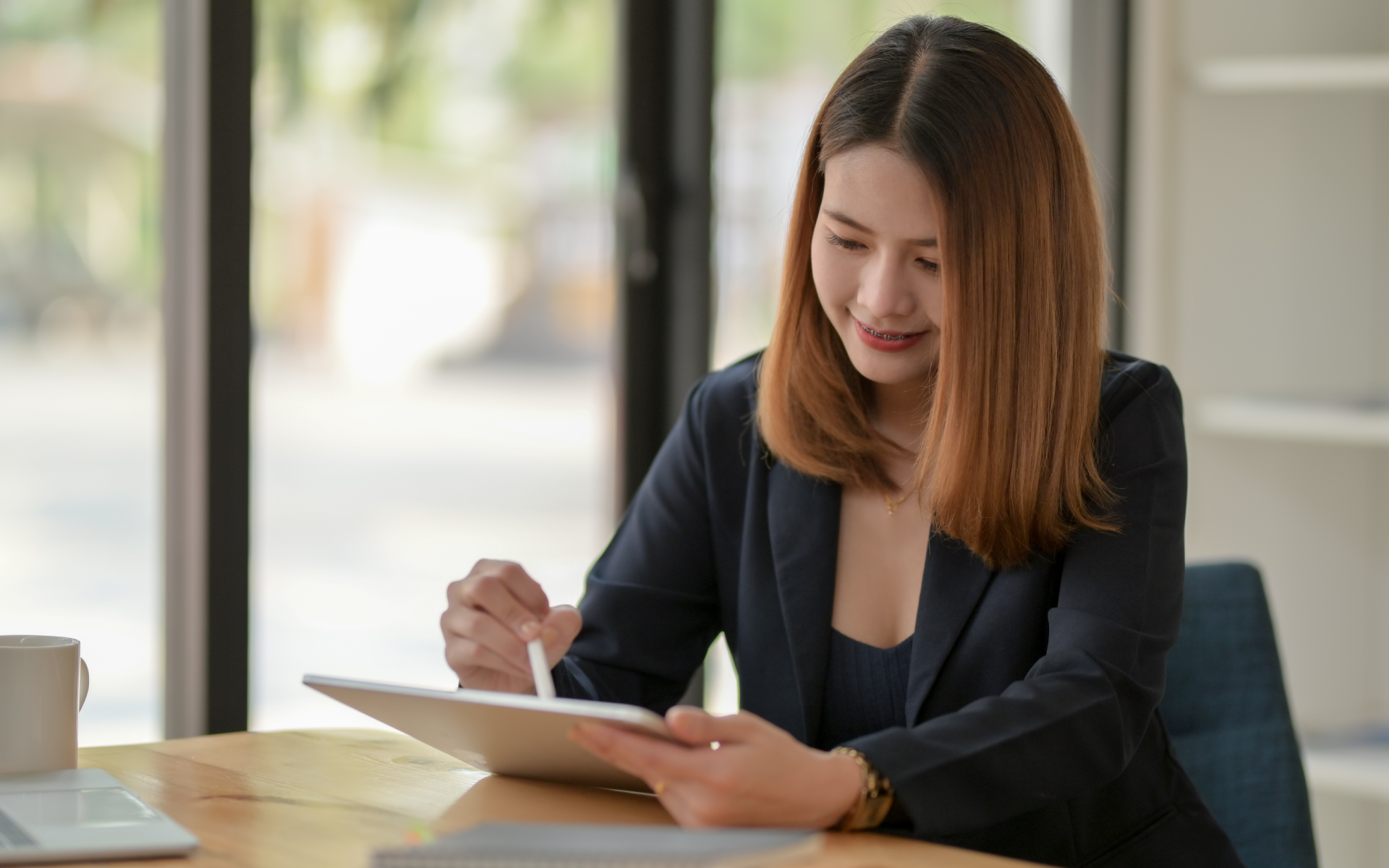 E-Sign with Exela's DrySign
Considering Digital Transformation in Pandemic Times? E-Sign with Exela's DrySign
The Rapid Adoption of Digital Transformation and the Role of Electronic Signatures
Embracing digital infrastructure is the need of the hour for every business. Gone are the days when digital additions to your everyday operations were just to look modern, competitive, and adaptive. In the present COVID-19 driven scenario, digital transformation and ensuring business optimization is a must. However, it is equally important to understand the challenges and leverage opportunities that come with the adoption of digital transformation. Successful implementation of this transformation demands careful planning and effective ways to overcome the probable risks, such as regulatory compliance and data breach, and allow faster yet smooth business integration with better customer experience at a reduced cost. An electronic signature is one of the quickest ways which businesses can adopt in this regard.
How Do You Know when an Electronic Signature is Valid?
The following graphic illustrates the critical requirements for the e-signature to be considered valid.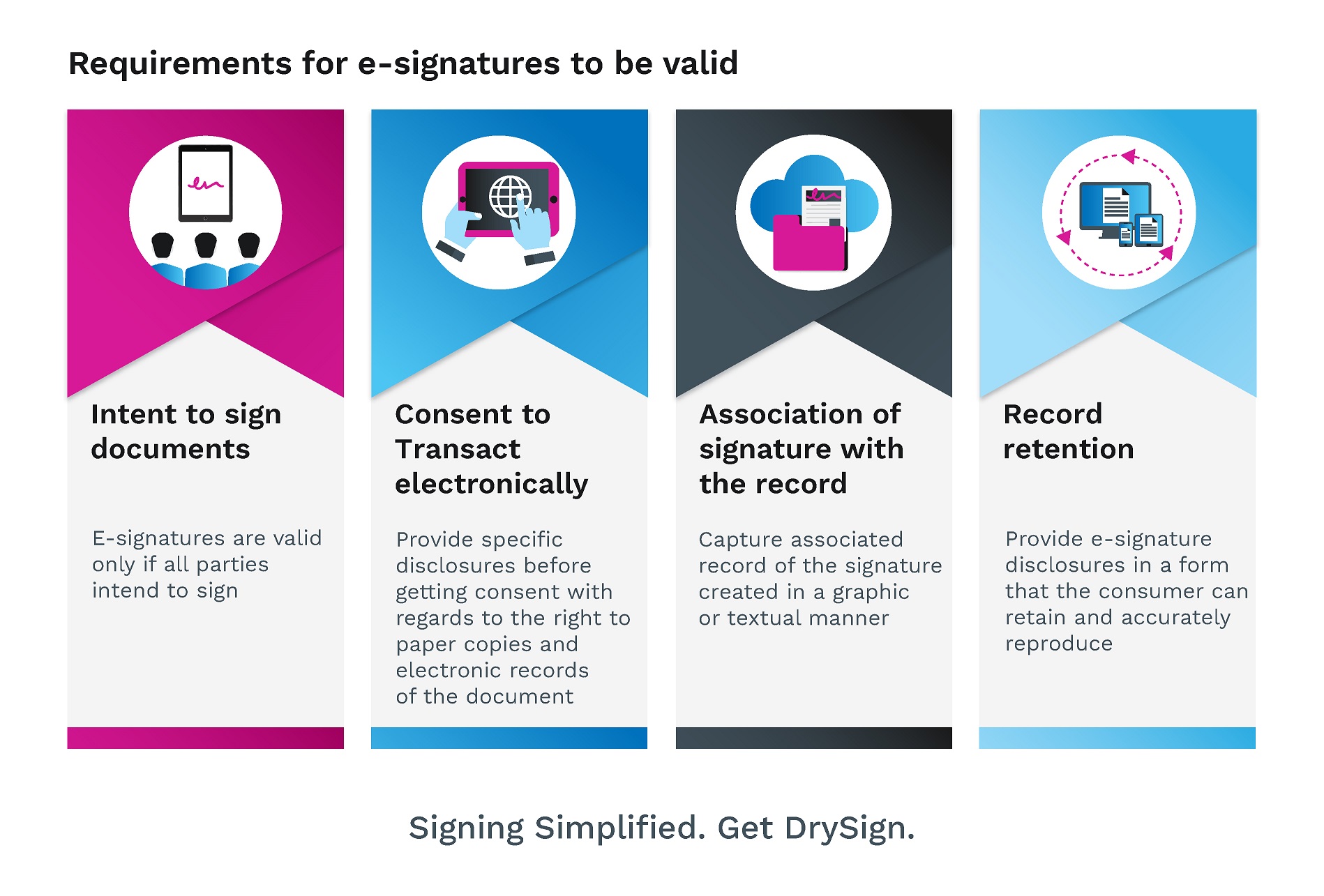 Benefits of Electronic Signatures
The electronic signature technology supports the digital initiative with the following benefits:
Provides error-free and systematic workflow option for users
Better Return On Investment with no requirement of the cost and time to be spent on paper documents
Improved customer experience with no dependency on scanners or printers
Availability as a single unifying service across the entire business processes irrespective of workflow and location
Also read: Why it's time to DrySign 
What Happens After the Document is Electronically Signed?
Interestingly, the capturing of a signature electronically is just one aspect of an eSignature solution. It is quintessential to consider the downstream scenario or rather the treatment of the electronic document once signed. This is what Exela's smart eSignature platform, DrySign, offers, and keeps us at par with our competitors. Exela's DrySign provides the blend of the above-mentioned benefits, along with the effective treatment and secure storage of documents post electronic signatures as explained below.
DrySign is Fast, Simple and Secure
DrySign lets you create your custom signatures and allows you to sign documents with a single click or trace while ensuring the highest security using industry-standard encryption. You can also set a priority order for signatories; the document is sent for signature to each person as per the required level of hierarchy, using the "Group Sign" feature. The availability of template features allows the department-specific creation of documents to be electronically signed. The easy-to-use UI makes it effortless to prepare large documents such as service agreements or procurement forms for signatures, using a drag-and-drop feature, which lets you place signature fields in the correct place. 
Choose Exela's DrySign for E-Signing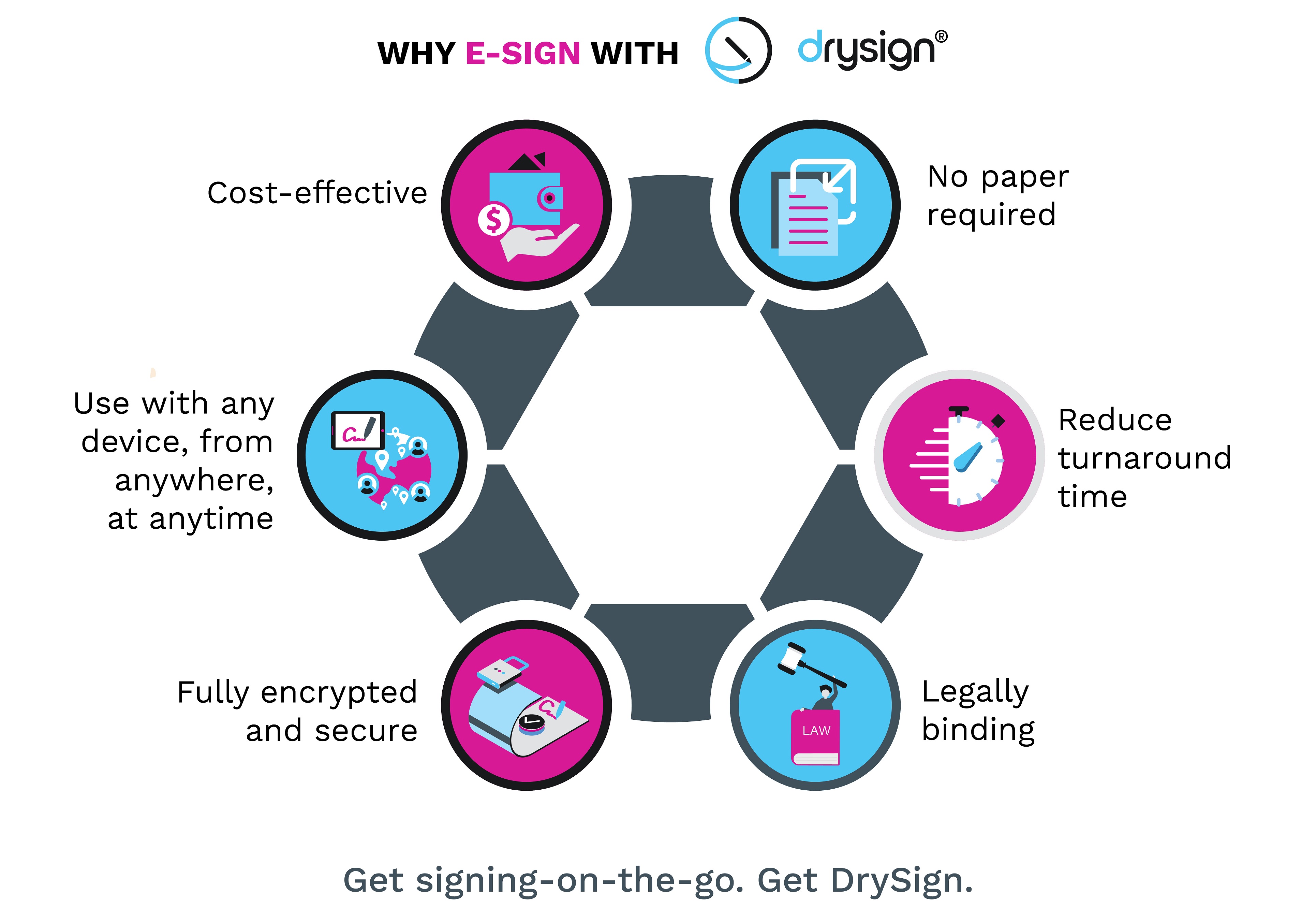 If you are looking to experience the power of paperless document processes with enhanced workflow efficiency
If you want to transform your business digitally without having to make drastic changes to systems or software with options to sign from anywhere, any device, at any time
If you want to empower your business to go truly paperless taking your document management processes online
If you are willing to modernize your work culture in the work-from-home scenario
If you want to get rid of unorganized documents and want systematic storage of your documents in a central online repository for easy and increased accessibility
If you are looking for effortless document tracking and retrieval
If you want to strengthen your document security
DrySign does all of the above for your document processes and much more.
Found this interesting? Share on your socials to let others know: