Big Holidays Discounts coming your way! More than 30% off on every DrySign plan!

Big Holidays Discounts coming your way! More than 30% off on every DrySign plan!
DrySign celebrates this year-end with big discounts on all plans, including the Premium Plan!
DrySign, Exela's proprietary digital signature solution, allows users to securely exchange legally enforceable signatures from anywhere, anytime, from any internet-enabled device. The platform offers individual, multi-party, and hierarchical signature workflows, and facilitates remote document delivery, document archiving, and full process administration—no paper required.
DrySign is part of Exela's growing suite of home office solutions, focused on supporting agile employees, freelancers, and businesses of all types and sizes as they navigate the transition to remote work arrangements in response to the challenges presented by the COVID-19 pandemic.
August 2020: Drysign launches in the United States, Canada, and India.
September 2021: DrySign launches in the UK and the Philippines.
October 2021: DrySign expands its customer base by 47%.
December 2021: DrySign crosses 17,000 users worldwide.
DrySign is an easy-to-use, secure, and cost-effective electronic signature solution. A smart add-on to the transformative digital journey of your organization, DrySign offers a legally compliant and protected platform to eliminate bulky and traditional paperwork and in-person signing processes. With DrySign, users can sign, send, receive, invite, track, and store documents online, all at a fraction of the cost you spend on paper-based workflows.
With so many good things going, we wanted to share some of our happiness and growth with all of you.
Also Read: Guide to Going Paperless with DrySign
Our exclusive Holiday Offer brings you more than 30% off on any plan:
Annual Plans
Individual Plan: Pay only 58$ 48$!
Professional Plan: Pay only 168$ 108$!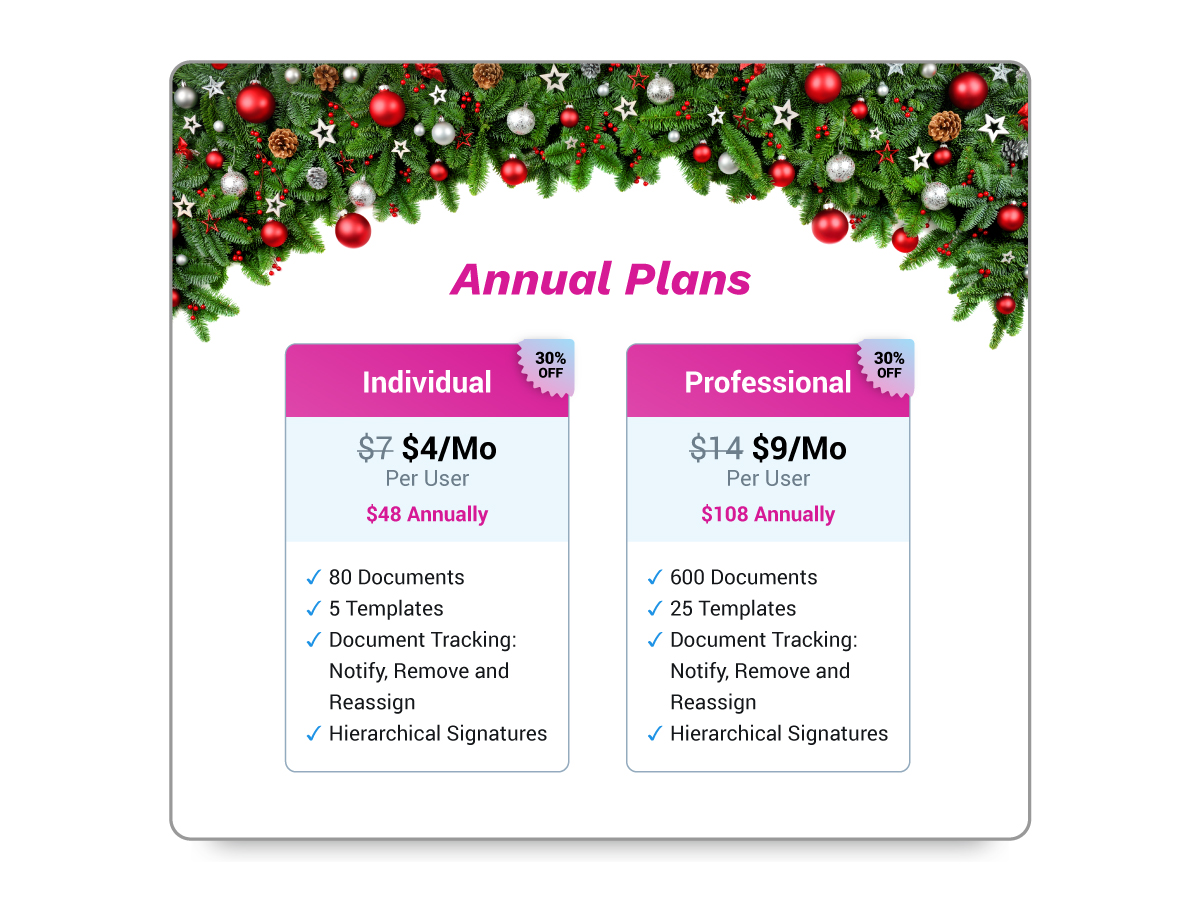 Monthly Plans
Individual Plan: Pay only 8.99$ 5.99$!
Professional Plan: Pay only 16.99$ 10.99$!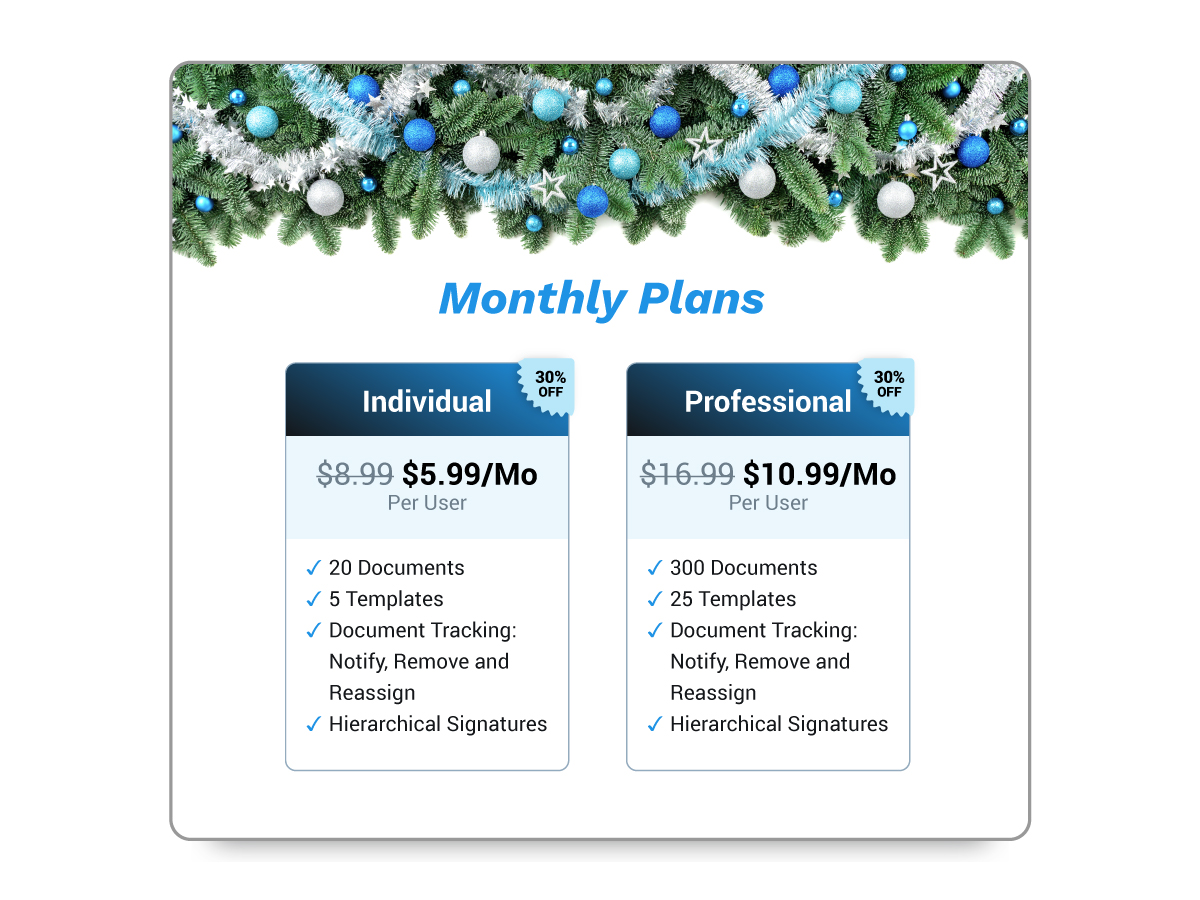 Features
Legally compliant Electronic Signatures
DrySign is compliant with the Electronic Signatures in Global and National Commerce (ESIGN) Act and the Uniform Electronic Transactions Act (UETA)
Group Sign
You can invite multiple signatories to sign documents online with this unique, easy-to-use feature. Sleek Dashboard Get a bird's-eye view of your digital signing history along with status tracking options and a complete document overview.
Audit Trails
DrySign allows you to track your document with time stamps and audit trails every time someone opens a document or signs it.
Custom Notifications & Reminders
You can set up reminders for signers and receive real-time notifications. Stay updated at all times!
Seamless Signature Workflow
A comprehensive electronic signature solution, DrySign offers easy document uploading from multiple sources in multiple formats.
While there are numerous benefits of using an electronic signature solution like DrySign, we are going to list just a few to get the conversation started:
Save Big COSTS: We are not just talking about our holiday discount here! Eliminate the cost of printing, paper, ink, courier and post, and many other redundant cost heads.
Be ECO-FRIENDLY: Paperwork and documentation make up over 35% of the global paper consumption. One small step can make a big dent in these numbers. Going digital is going sustainable!
FLEXIBILITY in Business: We know the importance of being flexible in business post-COVID-19. Sign and upload documents no matter where you are.
Reduced TURN-AROUND-TIME: From start to end, the journey of a document is of printing, scanning, and sending documents for signatures and receiving them back. A workflow that usually takes 5-6 business days is done in less than 15 minutes.
Customers love WORKING WITH YOU: Be it the sustainability, the fast TATs, or the flexibility, all these benefits add to the efficiency of your workflow, making customers absolutely love working with you.
With spectacular discounts up for grabs, you can add one more benefit to this list and sign up now!
Take a pause without letting your business stop this holiday season!
Found this interesting? Share on your socials to let others know: